Brad Edwards
Hired at WBBM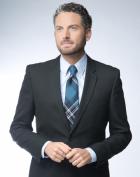 Reporter/Anchor
When I was fortunate enough to see just one story from Brad Edwards, I knew he was someone that was uniquely talented. He has the gift! He is a creative wordsmith, a captivating television presence and a compulsive digger. Upon his arrival at CBS Chicago in 2012, Brad immediately became the lead 10 pm reporter. Soon after, he was given his own franchise: a daily enterprise-turn that touches all aspects of stories and storytelling. 
His 70+ awards include a half-dozen Regional Edward R. Murrow Awards and more than a dozen individual Regional Emmy Awards.
Brad was also selected by his colleuagues to serve at the SAG-AFTRA Steward representing talent at CBS Chicago, he's also served as an Adjunct Professor in the Communication and Media Innovation Department at Columbia College of Chicago.
Share
Forward this talent link to a colleague
Connect
E-mail HDReps for availability, to set-up an interview, and for more information